Started at Compass Point Marina, St Thomas, USVI where we charters a Jeanneau 40 from VIP Yachts.  The then sailed to:
St. John, Francis Bay,
Tortola,  BVI,  Soper's Hole, The Pusser's Landing at Soper's Hole, West End. Located directly across from the Custom's Dock, an ideal stop for yachts to clear in. Moorings are affordable, as is food, ice and water.  This is home to Pusser's Bar and Restaurant—with some of Tortola's best food—and a fully stocked Pusser's Co. Store. Serving lunch and dinner with dishes including everything from lobster to steaks, as well as snacks and pizza.
Norman Island, One of the more popular anchorages in the British Virgin Islands is The Bight at Norman Island. The Willy T floating bar and restaurant can likely take credit for at least some of the popularity of this truly excellent anchorage.
The Indians,
Peter Island,
Cooper Island,
Dog Island,
Anegada, Measuring 11 miles by three, its highest point is just 28 feet above sea level.
Jost Van Dyke, Club Paradise is famous for its conch stew and barbecued ribs, while the Caribbean's most famous cocktail, "The Painkiller," was invented at The Soggy Dollar Bar.
St. John, Coral Bay,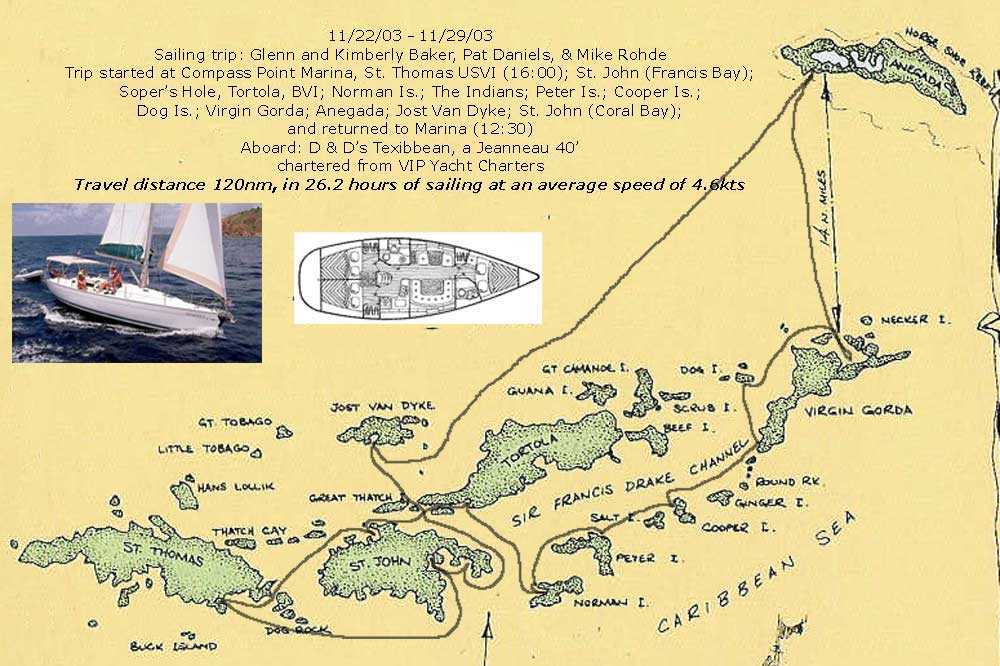 ANCHORAGES The beautiful, clear waters of the British Virgin Islands offer countless anchorages. Sailors should use caution when anchoring to prevent damage to fragile coral reefs. Where mooring buoys are not provided, sailors should anchor in sandy areas and be sure to never sail at night. Nightfall arrives quickly, and even the most experienced sailors in the BVI do not sail past dusk. Although we have listed several accepted anchorages throughout the islands, it is recommended that current navigational charts be used when cruising and anchoring in the BVI waters. U.S. National Ocean Service (NOAA), U.S. Defense Mapping Agency, British Admiralty and Imray produce charts for the area. Electronic charts are available from C-Map, BSB/NOAA, Garmin G-Map, Laser Plot, Maptech, Navionics and Northstar.. Deadman's Bay, Peter Island Island: Peter Island Eastern tip; long beach at the yacht club; prone to swell particularly in winter. Great Harbour, Jost Van Dyke Island: Tortola Well protected harbour bordered by white sand beach and restaurant. Little Harbour, Jost Van Dyke Island: Jost Van Dyke – Little Harbour Calm, quiet lagoon, three restaurants on shore. Machioneel Bay, Cooper's Island Island: Cooper Island Northwest shore; dock for dinghies, beach and restaurant. Marina Cay Island: Marina Cay North of Trellis Bay, enter from the north to skirt coral. Moorings, small beach, Pusser's Restaurant and Stores, and the Rob White happy hour bar on the top of the eight acre island. North Sound, Virgin Gorda Island: Virgin Gorda – North Sound Eastern tip of the island, surrounded by several islands, a variety of overnight anchorages; northern Caquhoun Reef for drafts greater than five feet; Anguilla Point entrance for shallow drafts in calm weather only; restaurants. Pelican Islands & The Indians Island: Pelican Island Close to The Bight, good snorkelling and scuba diving. Road Harbour, Tortola Island: Tortola – Road Town Area The BVI's largest harbour bordered by Road Town; immigration and custom facilities; shops, restaurants, grocery store, and marina close by. Salt Island Island: Salt Island Location of the Wreck of the Rhone II, accessible by moorings at Lee Bay. Both Lee Bay and Salt Pond Bay have rough anchorages – recommended for day use only. Sandy Cay, Jost Van Dyke Island: Jost Van Dyke Long white sandy beach; prone to swells. Soper's Hole, West End Tortola Island: Tortola – West End / Soper's Hole One of the main ports of entry, deep and sheltered. Restaurant, ferries, marinas, and immigration and custom clearance. The Baths, Virgin Gorda Island: Virgin Gorda Southwestern shore; small grottoes and pools, excellent snorkelling; overnight swells are common. The Bight, Norman Island Island: Norman Island Uninhabited, hiking to the top of the island; caves reachable by dinghy. The Dogs Island: Virgin Gorda – North Sound Between North Sound, Virgin Gorda and Jost Van Dyke; look to anchor on calm days west of George Dog or on south side of Great Dog. Trellis Bay, Beef Island Island: Tortola – Beef Island Sheltered anchorage across from Marina Cay bordered by semicircular beach; restaurants, water sports, arts and crafts, and cyber café on premises. A short walk to the airport. Great Full Moon Party too. White Bay, Jost Van Dyke Island: Jost Van Dyke – White Bay A channel through the reef provides access; subject to swells in the winter; white sand beach and restaurant. – See more at: http://www.bvitourism.com/moorings-anchorages#sthash.yp2FEvYE.dpuf