Breakfast at the condo of yogurt, fruit and coffee.  Pat and I walked across the street to one of the many Dive Shop and bought some snorkeling gear. We decided to get the shorter snorkeling fins which also pack better for taking along on trip and we do not plan on doing and diving.  We met the group at 0900 and we headed off to Cemetery Beach which is at the North end of Seven Mile Beach to do a bit of snorkeling.  The reef was close to shore and like most of the close in reefs in poor shape.  We saw dozens of different fish including sea urchins, and even a flying fish.
After 2 hours of snorkeling we packed up and returned to the condo for a shower and to go have lunch.  We had lunch at Da Flying Fish which seem appropriate based on the days activities.  The food was very good and the service as well.  
Next stop George Town for shopping.  We wandered around the shop and high-end store or course Kelli and Tamara made purchases while Pat did not see anything that struck her fancy, she briefly considered a purchase from La Parfumerie of more "Little Black Dress" but the price was the same as in Paris so she asked if we were going back and I immediately answered "well of course we will".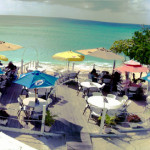 Back to the condo for some R&R and then cocktails and dinner was at Alfresco Restaurant on the beach at the north end of Seven Mile Beach, a bit too far to walk.  The food was excellent and I would recommend this place for that reason, the service was slow and very inattentive and the food too what seemed
like an unusually long time, however, it was worth the wait.  I had red snapper that was sautéed with fresh mango and red papaya, served with rice and beans and fresh vegetables.  The fish was done perfectly and the sauces was excellent with large piece of fresh island fruit, the vegetable crisp and the rice tasty, way too much food.  Pat had the Lobster prepared Cayman style, which meant the lobster was removed from it shell, cut and saluted with a tasty carry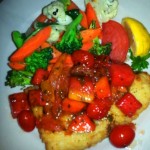 of fruit and spices, the dish was very good but I thing Pat was anticipating a whole Caribbean lobster.  Hers included the same sides.  Ryan had the Egg Plant parmesan which he said was excellent and freshly made, Jim had a Hawaiian pizza, Tamara a salad with fish and Kelli Conch Salad and a Caesar salad.