Today were getting a planned late start, meeting for breakfast at 1000 at Cimboco and then off to the Marriott Hotel to meet up with a group to go snorkeling. We cruised along Seven Mile Beach on one of our luxurious catamarans to some of the best snorkeling on the island. The catamaran stops for snorkeling at two locations. The first stop takes you to Cayman's newest attraction the USS Kittiwake Wreck and the second a beautiful coral reef where guests can enjoy the plentiful marine life.
---
USS Kittiwake (ASR-13) under tow on the Elizabeth River, 18 February 2010, from the James River National Reserve Fleet to Dominion Marine,
Norfolk, VA., where she will be cleaned of toxic materials. The ship will then be towed to the Cayman Islands where she will be sunk in about 65 feet of water as an artificial driving reef. The ship was place on the bottom on July 5 2011. Watch the YouTube video

---
Following the snorkeling of the Kittiwake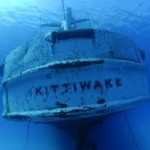 we returned to the condo via the catamaran
under sail at about 9 knots, and the walk up the beach, we showered and made cocktails. Tonights cocktail was Mango with Rum. After cocktails we walked over to the Waterfront Restaurant in Canama Bay and had dinner and after stop for Gelato at the same location.  Then the girls when shopping and the guys crashed on the benches and talked trash.